NFT Editions
MATURE HORIZON BY OEArt – ON VIEW NOW AT OPENSEA
Last update: June 20, 2022.
Mature Horizon is a generative digital art collection based on the artwork, "Mature", an oil on canvas made by Ofill Echevarria in 2014.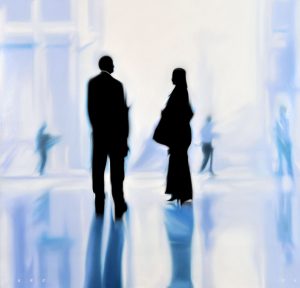 © 'Mature' (2014) | Oil on canvas | 48" x 50" | 122 x 126 Cm.
The collection comprises a large number of emotionally distinctive Non-Fungible Tokens, with the exception that its first 3 numbers are identical to the original picture, but also unique as their color range varies.
Also, even though Mature Horizon features digitally created items, when you purchase a Mature Horizon NFT, you could actually own the digital asset you purchased in high resolution, which is no larger than 2100 square pixels, or 7 x 7 inches.
On copyrights in the purchase of a Mature Horizon NFT
When you purchase a Mature Horizon NFT, you do not get the rights to use the intellectual property, but you do get a high-resolution 7-inch square digital file of your NFT image (its maximum size), sent to you via secure email, along with a signed letter from OEArt authenticating your purchase and explaining your rights on this acquisition.
Request your Certificate Of Appreciation
Additionally, as an appreciation from OEArt, when you purchase a Mature Horizon NFT, you can proceed to request your C.O.A. (Certificate Of Appreciation) printed on HD metal: a high quality 4″ x 4.5" gloss finish print on a stable brushed aluminum panel, with records of your token ID, its contract address and the artist's signature, engraved on the back of the piece. *Shipped to you by First Class Mail or DHL Express outside of the United States.
~
Front view of your printed C.O.A. *Engraved data on the back of the piece, with your purchase.
To find more information about how to coordinate the delivery of both your digital file in high resolution and your C.O.A., please contact Mature Horizon Collection Manager, George Greco: gg.oeart@gmail.com
Mature Horizon By OEArt Commitment
Ofill Echevarria Art commits to donating 5% of its profits from the Mature Horizon collection to https://www.feedthechildren.org/ by the end of 2022.
---
MATURE HORIZON BY OEArt – COLLECTION RECORDS
Full-size images, Properties of each NFT and Transactions now available for some items at OpenSea.io (Browse Now).
Conclusion: Mature Horizon By OEArt is a growing collection featuring for now 105 items available on OpenSea, both for viewing and some items for sale. You will need a digital wallet to trade at Opensea.io -Connect your wallet and bid or DM us on our Twitter account: @gg_art_pr with your thoughts on the collection. Happy trading!.